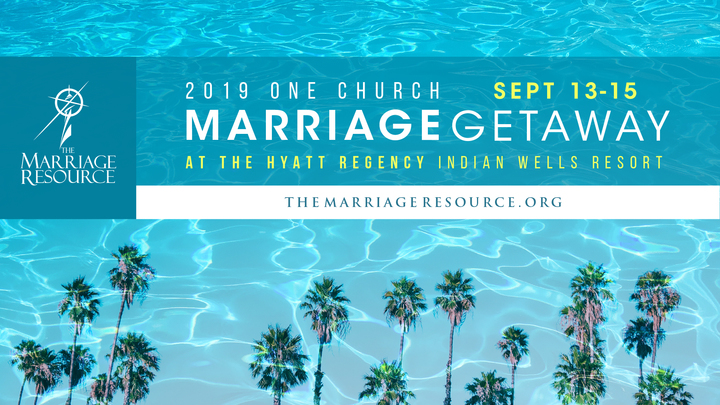 ONE Church Marriage Getaway 2019
September 13-15, 2019
$115 - 450
Dates & Times
Sep 13-15, 2019

7:00pm - 11:30am
Attendee Types
Standard Couple Ticket - guest responsible to pay daily self park fee of $11.75 at The Hyatt

Event Only Couple Ticket - guest responsible to pay $11.75 per day self parking fee at The Hyatt
About ONE Church Marriage Getaway 2019
We are currently sold out. To be placed on the waiting list please email us at admin@themarriageresource.org
When: Friday, September 13th - Sunday, September 15th, 2019
Who: Speakers - Dr. John Trent and Kari Trent Stageberg
StrongFamilies Ministries - https://strongfamilies.com/
Comedy: Friday night
Where: The Hyatt Regency Indian Wells Resort & Spa
Price: $450.00
Non-refundable $200 deposit. Guest is responsible to pay $11.75 per day self-parking fee to The Hyatt upon check-in.
Added Value: Complimentary Saturday lunch included. $450 includes 2 night stay at The Hyatt Regency Indian Wells and event admission for Friday, Saturday, and Sunday.
---
Get ready for a weekend of encouragement, relaxation, and worship! Dr. John Trent and his daughter Kari are an engaging duo who share practical tools and real life experiences with an insightful blend of biblical truth and workable wisdom.
This year's topic is STRONGER :: How small things can build a STRONG marriage.
---
For more information, go to themarriageresource.org in the months to come as we share videos, encouragements, and details before the Marriage Getaway 2019.
For questions, contact Ali Ash at ali@sdchurch.com.
*Active Duty Military Scholarships available, please email ali@sdchurch.com